Public Security | Homeland Security
Unleashing Wide Capabilities With Drones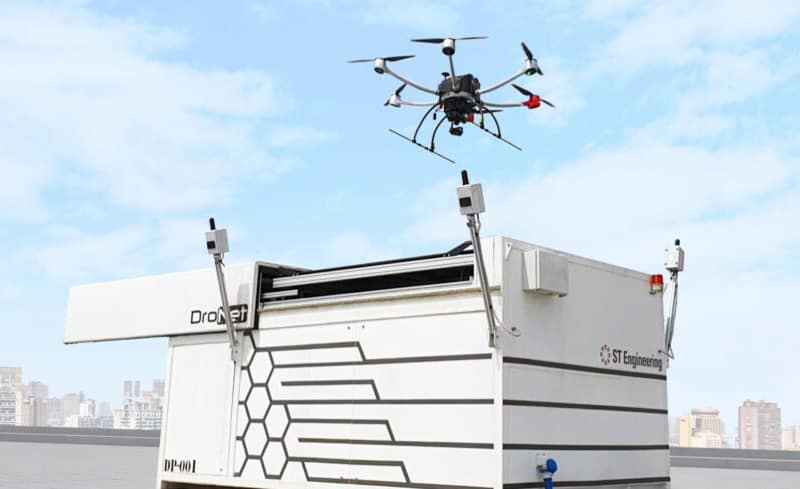 Drones, also known as Unmanned Aerial Vehicles (UAVs), have come a long way. The earliest drones were first deployed in the mid-1850s for military purpose. Fast forward to today with advancement technology, drones are now widely used by hobbyists for aerial photography and videography. Beyond leisure and military purposes, what can drones be used for in an urban setting?
Urbanisation is growing at an exponential rate and this gives a myriad of possibilities that drones can be deployed for public security purpose such as surveillance, security, inspection and delivery. We believe drones can help to improve productivity and enhance safety.
With curiosity and strong belief, we developed the DroNet solution in 2017 and are humbled to be the first in Singapore to have authorisation from the national aviation authority (Civil Aviation Authority Singapore) for Beyond Visual Line of Sight (BVLOS) operations. This also means we have met the stringent and safety requirements of the authority. Harnessing the power of 4G/5G networks, DroNet can cover remote locations that are out of visual range. We have subsequently obtained multiple flight permits and clocked over 600 operational BVLOS flights in Singapore.
How drones go the extra mile autonomously
DroNet is a scalable and end-to-end operation platform that combines drone robotics, networking, video analytics, and data sharing for various applications such as public security, perimeter security, asset inspection, and lightweight deliveries. It is enabled by several key components – our DrN series of UAVs, the DroHub, a centralised command and control hub that can be set up anywhere, and the DroPort, an independent, all-weather drone docking and charging station that can be placed in harsh environments to house the UAVs.
The DroHub enables operators to pre-program and supervise the flight routes for multiple UAVs. Drones then execute whatever "mission" they have been assigned – this could be to inspect or monitor a building/construction site, deliver a parcel, public safety, respond to an emergency, etc. As they travel on their mission, the drones' batteries could run dry, and they can dock into a nearby DroPort to get its batteries automatically swapped before it is safely launched again for the next leg of the journey. Here, the drone's payload can also be swapped if its mission is changed.
The creation of DroNet means that many dangerous and hazardous duties that humans used to or currently need to do, such as inspection of buildings, need not be done physically by them anymore. They can instead be done by drones, supervised by humans safely and remotely.
For example, in an emergency response situations such as search and rescue, fire detection and damage assessment, DroNet can be used to survey and monitor effectively and enable rapid response teams to make critical instant assessments prior to their deployments in volatile situations.
DroNet is also particularly helpful in the new norm when social distancing is prevalent. Delivering medical emergency and food supplies to quarantine vessels can be the new norm. We have collaborated with Singapore's food delivery company; foodpanda, to deliver food supplies successfully to a ship anchored in waters off mainland Singapore.
The autonomous capability of DroNet and DroPort, together with the smart control of DroHub to track and monitor anomalies in real time with smart analytics provide actionable insights and increase possibilities that can reduce manpower and enhance safety.
The possibilities as illustrated in the infographic below: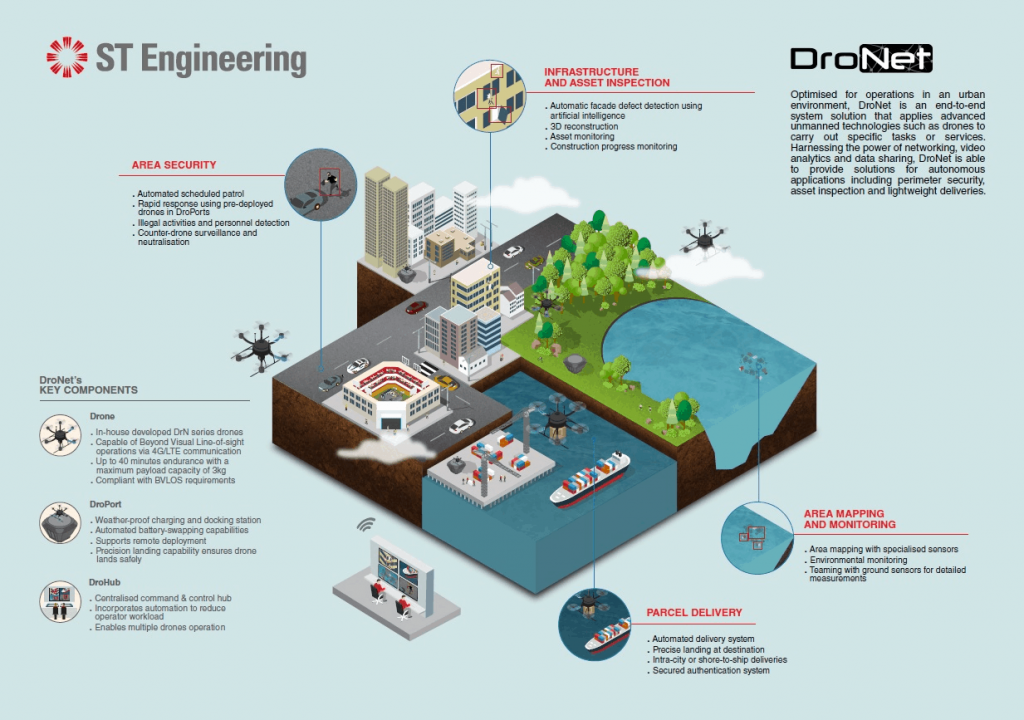 With limitless potential, the scalable DroNet provides a unified Drone City network to enhance urban living, security and convenience across any city.
Watch this video to learn more about DroNet: