Training and Simulation
Redefining The Edge In Training And Simulation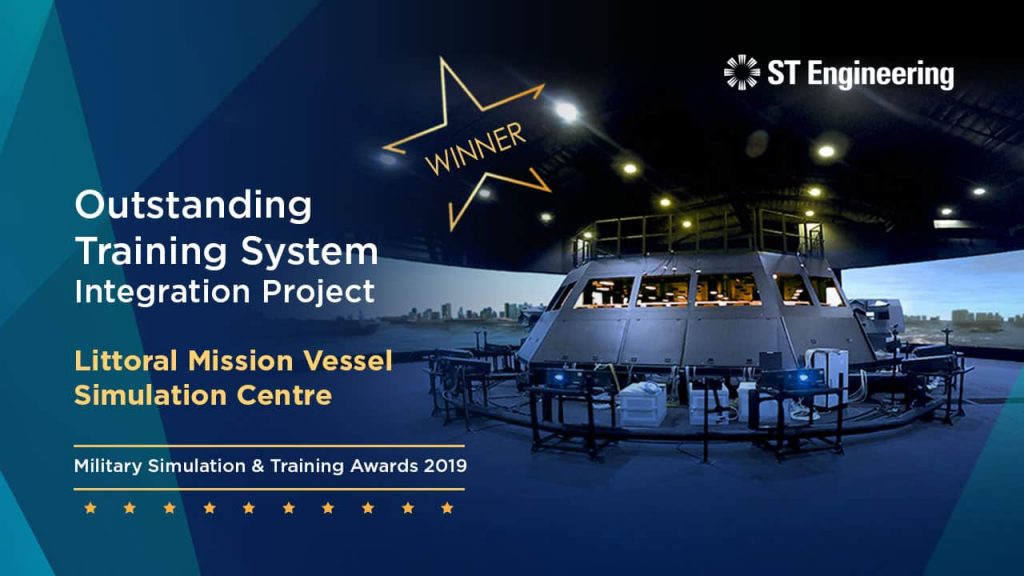 Jointly developed with the Defence Science and Technology Agency (DSTA) of Singapore, the LMV simulators provide integrated ship crew training in navigation, combat and engineering for the Republic of Singapore Navy (RSN). Since the opening of the LMV SimCen, training time for the LMV crew has been reduced by up to 60%.
We've invited Tan Yuh Cherng, who helms the Training & Simulation team in ST Engineering, to shed insights on the development of the LMV simulators and how other emerging technologies will transform the training and simulation arena.
Question:
The Littoral Mission Vessel (LMV) Simulation Centre had belted the Simulation & Training Awards, an international accolade, back in 2019. What do you think were the key winning factors?
We took immense pride when we successfully delivered the challenging and ambitious LMV SimCen. This international award recognises the best in the modelling, simulation and training community! The fact that we won against strong competition in the Outstanding Training System Integration Project category is testament to the good work done by our Littoral Mission Vessel (LMV) project team.
3 winning factors that attributed to the win:
1. Extensive Scale of Integration
Our integration effort covered the depth and breadth of bridge, combat and engineering systems into a single simulation system. This meant that the scale and complexity of integration was far greater than that of a conventional simulator. Over 30 systems were integrated with their effects simulated in every possible scenario. This demand was close to modelling and simulating every aspect of an entire warship ashore.
2. Training Realism
The LMV operates in one of the busiest waterways in the world where there are at least 1,000 ships at any one time in the Singapore Straits. The LMV simulators had to be able to simulate this number and diversity of vessels with no observable latency to the ship crew. A variety of simulations can be generated, including harsh weather conditions, system malfunctions, high traffic density in congested waters and the presence of any vessels of interest, reflecting the challenges and different roles undertaken by the crew.
3. Diverse Teamwork
The team spirit and mettle displayed by the project team was definitely a strong contributing factor.
The project team of almost 30 people, encompassing different capabilities from our company, DSTA and RSN, worked together relentlessly from conceptualisation to reality. The LMV simulators were developed in tandem with the building and progressive operationalisation of the ships by ST Engineering's marine sector. This meant that our simulators had to evolve as new insights and modifications surfaced. Our engineering teams had to be flexible to adapt to these changes.
Question:
The LMV simulator leveraged VR for a unique training requirement. How do you see more of such application being developed in the near future?
We are the first in the industry to apply this concept of a VR watch station. The idea came about due to practicality. Although our 360 wrap-around visual system gave a realistic perspective of the simulated maritime environment from the LMV bridge, there was no way for a naval officer to practice manoeuvres that would require him to look at the waterline near the ship's hull. VR provided the perfect platform for full immersion, by offering an increased depth perspective for challenging scenarios such as bringing the ship alongside a berth and dealing with small vessel threats. Immersive technologies such as Augmented Reality (AR), VR, Mixed Reality (MR) are definitely here to stay and we look forward to applying their immense potential for other training purposes.
Question:
What will be the next wave of technology applied to the simulation world?
Simulation on the cloud
Cloud has garnered huge attraction in all aspects of the digital enterprise and the ability to orchestrate simulation on cloud would be interesting to look at. The value proposition to our customers would be to enable distributed training, anytime and anywhere, delivered to the point of need, while minimising hefty investments in training equipment.
Advanced training analytics
At the software layer, analytics will unlock greater potential for training. In addition to tracking and measuring the performance of a trainee, training analytics would be able to help instructors better customise the training session and address the trainee's weaknesses to improve performance. The next leap, predictive analytics, would be able to help forecast outcomes. To use soccer as an analogy, imagine being able to predict with confidence, that fielding a particular player would achieve a success rate of 80% over others. Predictive analytics will be a powerful tool delivering an actual impact on real-life operations.
Artificial Intelligence (AI) in simulation
Applying AI to Computer Generated Forces (CGF) for example, simulated maritime traffic, means that no two simulation sessions will be alike. These entities will become increasingly intelligent, learning from and responding to the user's behavior as they participate in each training exercise, making training more realistic.
Another groundbreaking development in the works by an industry player is the use of AI imaging techniques to render the simulation environment. By using a 360 HD camera to film the environment, one will be able to digitally manipulate pixels to recreate assets or human characters. This not only speeds up the modelling of virtual environments significantly, but also retains its life-like fidelity. Imagine immersing yourself in a HD virtual environment that you can interact with, versus that of a 3D graphically rendered world. The technology will not only dramatically change the simulation training landscape but also impact other industries such as gaming and advertising.
With the end goal of offering best-in-class training experiences for our customers, we will continue to invest in Research & Development (R&D) and partner leading providers, developing the next wave of technologies that redefine the training and simulation arena.